New York City. The city that never sleeps. It's packed with iconic attractions and a long list of must-see sights. With so much to do, it's best to arrive with a plan of attack in mind. To help you make the most of your time in this wonderful city that I call home, I've put together this itinerary for first-timers in New York City. It covers a variety of fun activities that you could choose from to build your perfect week-long trip. The itinerary is grouped by proximity and/or neighborhood to maximize your time and minimize travel between activities.
Any links to specific products and services I make on this website are because I personally recommend them. Timeless Wanderlust contains links with affiliate and referral codes. By clicking through, I will earn a commission at no extra cost to you. You'll also be helping reduce this site's running costs. Any sponsored posts will be clearly marked as such. Thanks for reading!
Keep in mind that New York City is more than just Manhattan, even though when most people say NYC they only mean Manhattan. The city is comprised of 5 boroughs: Manhattan, Brooklyn, Queens, Bronx, and Staten Island. This one week NYC itinerary covers 3 out of the 5 boroughs, but feel free to hit all five if you have more time.
Getting Around
Most of Manhattan is set up on a grid system, which means the streets (East to West) intersect with the avenues (North to South) to form a grid. This grid system makes navigating Manhattan north of 14th Street relatively easy and straightforward by foot.
The majority of NewYorkers travel by subway. Taking a first glance at the subway map can be a bit intimidating at first, but you can quickly get the hang of it. There are 24 distinct subway lines that run throughout the 5 boroughs. Within Manhattan, most lines run uptown (towards Queens / Bronx) or downtown (towards Brooklyn / Lower Manhattan). Very few lines run strictly crosstown (East-West) so you may need to walk a bit to get to another line if you're looking to go across.
For one week, I'd recommend buying a 7-day unlimited Metrocard (currently $33 each) which is good for unlimited subway and local bus rides until midnight seven days from the day of first use. Keep in mind that you can't swipe more than once at a station with an unlimited Metrocard, so you'll need to buy one card for each person in your party. The MTA charges a $1 fee for each new MetroCard purchased at a MetroCard Vending Machine or Station Booth. Your MetroCard can hold any combination of unlimited rides and dollar value. The cost of a standard ride is $2.75, so if you're in the city a bit longer than 7 days you can top it off with dollar value for the remainder of your stay. By using the same card, you avoid the $1 fee for each new MetroCard. You can use Google Maps or the MTA website to get subway directions.
The MTA is in the process of rolling out new technology to allow for contactless payment at the turnstiles using a credit card with contactless chip or using your phone with ApplePay or GooglePay. This is currently in use on the 4/5/6 subway lines with a plan to make it available on all lines by the end of 2020 .

IMPORTANT TRAVEL TIPS
Google Maps
Google Maps is a very helpful tool to get around, and will even give you subway directions. Check out my New York City map which includes pins for everything above as well as other places that I've not mentioned in the itinerary with my favorite sights and restaurants throughout the city to help you find your way around.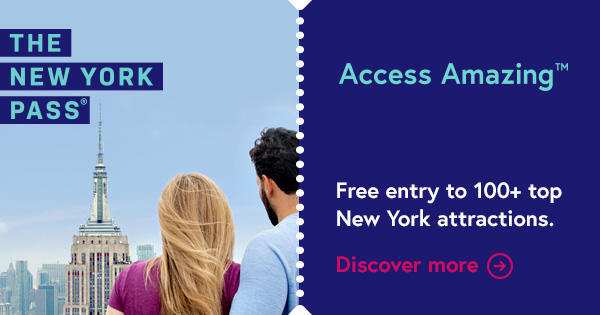 DAY 1: Midtown & Big Bus Tour
Morning
One of my favorite ways of getting acclimated to any new city is to join a hop-on hop-off bus tour. This allows you to see some of the major sights from the comfort of a bus, but still hop off if you see something that grabs your attention and get back on when you're ready. One of the popular bus tour companies is Big Bus Tours which offers a few ticket options starting at $49.50 for a 1-day adult pass if bought online. The Blue Line makes a loop with the first bus at 9 AM and the last bus at 5 PM with stops at these top attractions:
Times Square
Bryant Park
Grand Central Terminal
Metropolitan Museum of Art
Central Park Zoo
Columbus Circle
Carnegie Hall
LUNCH RECOMMENDATIONS
Dining Concourse at Grand Central Terminal – 20 local restaurants offer a variety of options for any culinary taste available in the lower level
Pershing Square– American bistro located across the street from Grand Central Terminal
Afternoon
Though the bus drives past the following places, I recommend seeing them from inside. After grabbing lunch, take some time to visit Grand Central Station and admire the magnificent ceiling. Take a stroll through Bryant Park and sneak a peek inside the New York Public Library with its iconic lion statues at the main entrance steps at Fifth Avenue and its intersection with East 41st Street.
DAY 2: Empire State Building & The High Line
Morning
I suggest heading to the Empire State Building first thing in the morning to avoid the larger crowds. The observation decks are open 365 days, from 8 AM – 2 AM. Tickets are sold that include only the 86th Floor observatory, or both the 86th and 106th Floor observatories. The interactive multimedia tour is now included with your ticket purchase where you will gain a deeper knowledge of the building, its place in history and its leadership today. You can download the app for free from either the Apple Store or Google Play, or connect once on-site via their free Wi-Fi.
Just a few blocks down from the Empire State Building is the renowned Madison Square Garden. You can keep walking down 34th Street until you reach 10th Avenue, or alternatively, you can take the crosstown M34 bus, where you'll find the newly-opened Hudson Yards. The totally renovated space includes a sprawling retail space featuring more than 100 shops & 25 restaurants, many from celebrity chefs. You can also find the Vessel, the centerpiece of the Public Square and Gardens which is meant to be climbed and explored with others. Take the time to visit the Edge with iconic 360° views, a thrilling glass floor, and a champagne bar 100 floors up.
Afternoon
You can try grabbing lunch at one of many restaurants at the Shops at Hudson Yards. After which, I recommend taking a stroll on the High Line, our public park built on a historic freight rail line elevated above the streets on Manhattan's West Side. The park is open during the summer (June 1 – September 30) from 7 AM – 11 PM, in the fall (October 1 – November 30) from 7 AM – 10 PM, and during the winter (December 1 – March 31) from 7 AM – 7 PM. Access points are located along 10th Avenue from 30th St. down to Gansevoort St. as well as the intersection of 11th Ave. on 30th St. and 34th St. The entrances at Gansevoort St., 14th St., 16th St., and 30th St. are accessible by elevator. The entrance at 34th St. is a wheelchair-accessible ramp.
DAY 3: Statue of Liberty & Lower Manhattan
Morning
To beat the crowds, head down to Battery Park (subway: 4/5 to Bowling Green or R/W to Whitehall St) and catch the ferry that takes you to Ellis Island and the most recognized NYC landmark, the Statue of Liberty. There are a few options available for tickets that include only access to the ground but not the monument itself (Reserve), access to the pedestal base of the monument as well as the grounds (Pedestal Reserve), and lastly, access up to the crown (Crown Reserve). All tickets include access to Ellis Island and an audio tour guide.
Statue Cruises is the official operator for the ferry to Liberty & Ellis Islands and ferries depart from 8:30 AM to 5:00 PM approximately every 20-35 minutes. To avoid disappointment I highly recommend that you purchase tickets in advance online. All tickets are timed but keep in mind when choosing your reservation date and time, this is your entry into the security facility and not a specific ferry departure. Allow time to go through airport-style security before boarding the ferry.
LUNCH RECOMMENDATIONS
Eataly Downtown– the Downtown branch of the famed Italian indoor market, offering specialty counters, restaurants & cooking demos.
Trinity Place– American eatery set in a converted bank vault with original vault doors dating to 1904.
Afternoon
Once you've returned from visiting Ms. Liberty, take a stroll through Battery Park and walk up Broadway to reach the symbol of the Financial District – the Charging Bull. As you continue your way up Broadway, you'll pass Trinity Church and Wall Street. Once you get to Cortland Street, hang a left and you'll end up at the 9/11 Memorial Museum, as well as the Reflecting Pools that are available to the public. Though it is a somber place of remembrance, it was very well done and I highly recommend a visit to the Memorial Museum.
Right next to the Memorial is the new Freedom Tower with its fantastic One World Observatory. Walk the three sprawling levels of the Observatory, drop in to the café and grab a bite to eat, step onto the Sky Portal and stroll high above the crowded streets, take an interactive guided tour of the City with the help of a Tour Ambassador, and stop by the One Mix bar for a drink.
DAY 4: Museum Mile & Central Park
Morning
There's a stretch of Fifth Avenue north of 59th St known as Museum Mile due to the number of museums that can be found along that route. Some of the most famous works of classical and modern art can be found here. Take some time to visit one (or more) of these wonderful museums this morning.
The Metropolitan Museum of Art – "The Met" presents over 5,000 years of art from around the world for everyone to experience and enjoy.
Solomon R. Guggenheim Museum – "The Guggenheim" exhibits modern and contemporary paintings and sculptures in one of the most famous buildings in the world, designed by Frank Lloyd Wright.
The Frick Collection – Collections of old master paintings, European Sculpture & Decorative Arts housed in one of New York's last remaining Gilded Age Mansions.
Afternoon
After you've had your fill of art, take a stroll through Central Park. Any time of the year is a good time to visit the most famous park in the world. If you're by The Met, walk west towards the Great Lawn and head towards Belvedere Castle. This Gothic & Romanesque castle from 1869 is set on Vista Rock (the park's highest point) with amazing park views. You could spend hours wandering the park.
If you stay going west, you'll end up on Central Park West and right near the American Museum of Natural History, which is home to the Rose Center for Earth & Space and the Hayden Planetarium. At the heart of the Rose Center is an 87-foot-diameter sphere that appears to float inside a glass cube. It's amazing to see from the outside, but if you have time and have any interest in science or the universe, I highly recommend a visit to the Hayden Planetarium.
DAY 5: Long Island City & Queens Food Tour
Morning
Queens is one of the most ethnically diverse counties in the country, yet usually one of the more overlooked boroughs in New York City. Start the day by taking the E/M train to Court Sq – 23 St or the 7 train to Court Sq. and make your way over to Gantry Plaza State Park. Here you'll find fantastic, unobstructed views of the Manhattan skyline. Take a photo in front of the iconic Pepsi Cola sign.
Afternoon
One of the best ways to experience the variety of cultures that make up Queens is to take a food tour. Check out the following local tour companies that offer fantastic walking food tours.
Queens Food Tours 'Long Island City Food Tour' – Explore its old industrial past, learn about its artistic present, and witness its vibrant future while savoring its unique culinary treats.
Eat Your World 'Jackson Heights Food Tour' – This is perfect for curious, open-minded, adventurous food lovers who want to get off the beaten path and experience a truly local perspective of a non-trendy, super diverse part of Queens.
DAY 6: Brooklyn Bridge Tour & Soho
Morning
Start off the day with the Brooklyn Bridge, Brooklyn Heights and DUMBO Tour. This free (tip your tour guide) 3-hour walking tour starts at 9:30 AM daily (check the website for seasonal changes to the schedule) and includes a walk across the iconic Brooklyn Bridge, a stroll through the picturesque Brooklyn Heights, and ends with exploring the neighborhood of DUMBO. This tour finishes near the Fulton Ferry Landing in DUMBO, where you could take the East River Ferry to Lower Manhattan.
LUNCH RECOMMENDATIONS
Balthazar – Iconic French brasserie in Soho with steak frites, brunch & pastries in a classy space with red banquettes.
Lombardi's – Landmark NoLita restaurant serving coal-fired, thin-crust Neapolitan pizza since 1905.
Afternoon
After your visit to Brooklyn, take the ferry back into Manhattan and you can visit smaller neighborhoods such as SoHo, Little Italy, Nolita & Chinatown. Simply stroll through the neighborhoods and get to know their individual charms. What you'll find? Shopping spots, beautiful buildings, great food and street art around every other corner. Soho is known to have some of the top designer boutiques.
DAY 7: At Your Leisure
We've covered a lot of ground in the last six days, so on your last full day in the city take a moment to just enjoy being here. Perhaps there's some shopping you'd like to do? Is there a restaurant you wanted to try but didn't get to it earlier in the week?
If you're really itching to tick something else off your list, maybe one of these other fun activities piques your interest.
Evenings:

Things To Do
Rooftop Bars
Even during the colder months when the sun sets early, visiting a rooftop bar is a wonderful way of enjoying the beautiful New York skyline. These spots can be a bit pricey, but worth it for pre-dinner cocktails.
Broadway Shows
A great night in NYC can be had by taking in one of the many shows available on and off-Broadway. If you're looking for ideas on what's available to go see, check out the Today Tix website or download their app. If you're willing to stand in line and are flexible with what you see, you can snag tickets for up to 50% off by visiting the TKTS booth at Times Square.
Opera, Ballet, and other Cultural Events
New York City is so much more than Broadway shows. We're filled with many opportunities for fantastic entertainment. The following popular venues offer a rotating list of performances available and are worth taking a moment to see what's on during your stay.
Ice Skating @ Rockefeller Center
A quintessential NYC winter/holiday activity is ice skating at The Rink at Rockefeller Center. The skating rink is open from mid-October to April if you happen to be in the city during this time. They're open from 8:30 AM to Midnight and it makes for a beautiful night to skate under the stars. General Admission starts at $25 for adults which is available on a first-come-first-serve basis. Reservation packages are available on the website if you're looking to pair a skate session with a meal, drinks, or skip the line access.
Have you visited my amazing hometown? Let me know in the comments below.
Happy travels!