I've traveled for the last several years with carry-on luggage only for several reasons… from the emergence of checked bag fees to an increasing concern of having my bags lost or damaged. It's certainly much easier for me to do this when I'm traveling during the summer, cramming 3-weeks' worth of clothing and accessories into a 21-inch suitcase plus a duffel as my personal bag. But I have managed 10-days to 2-weeks' worth of clothing for cold-weather destinations as well. Here are my tricks for avoiding checking my bags.
Any links to specific products and services I make on this website are because I personally recommend them. Timeless Wanderlust contains links with affiliate and referral codes. By clicking through, I will earn a commission at no extra cost to you. You'll also be helping reduce this site's running costs. Any sponsored posts will be clearly marked as such. Thanks for reading!
Verify size limitations
Every airline has slightly different measurement requirements for what they consider carry-on luggage. For the most part, 22 x 14 x 9 inches is by far the most common for US-based carriers – this includes wheels and handles. If you're traveling on an international carrier, the allowance may be smaller than that. Regardless of which airline, do visit the airline's website and verify what their size requirements are for carry-on luggage.
If you're in the market for a new suitcase, grab a tape measure before you head to the store to ensure that your new luggage meets the required size. If you want a 4-wheeled suitcase, you'll be looking for a suitcase marked as 21 inches. If the suitcase has only 2 wheels, they'll usually be marked as 22″.
There are so many suitcase brands on the market these days, but my favorite brand remains Samsonite. They are stylish, practical, and durable.
Decant your toiletries
Ugh, liquids. Since the TSA instituted the 311 liquids rule in September 2006, this has been the most annoying part of traveling carry-on only. The best way to get around it is to decant your favorite toiletries into containers that take up the least amount of space.
I've purchased these empty lip gloss containers and have had much success with reducing the amount of space taken up by wasteful packaging. They work well for things like face cream, hand lotion, cleanser, and body wash. My advice is to fill up one of these tubes at home and mark the day you start using it. Pay attention to how long the product lasts with your daily usage. This will help you determine just how much product you'll need for your trip.
Create a capsule wardrobe
The most substantial thing I can tell you is to pack as if you were only going for one week, regardless of how long you'll be gone. The trick is to make sure that all your clothing can be worn interchangeably. This is commonly referred to as a capsule wardrobe. It's best to find pieces you really love as you'll be wearing them more than once on your trip. There are many online resources available that help you decide what to take with you for different destinations.
Consider the fabrics of your clothing. Cotton is one that takes a long time to dry, especially in humid temps. I prefer to travel with knit blends of rayon, nylon, and modal. Take a look at athleisure wear brands that combine comfort with breathable, wash-friendly fabrics.
Be prepared to wash
Keep in mind that you will have to wash clothing at some point during your trip. Items such as underwear can be hand-washed while you're in the shower. This will reduce the number you need to take with you down to 3-5 pairs for a trip of any length of time. Mine are mostly nylon or microfiber so they dry quickly, and I never run out of clean undies. It literally takes 2 minutes and I use the same bar of Dove soap I use on my body. If you're staying at an Airbnb, be sure to get one with a washing machine. Take into account that you will rarely find a dryer in apartments outside of the States. Therefore, you will have to hand dry your items, so don't wait until all of your clothes are dirty to clean up.
Alternatively, Google the nearest laundromat to your lodging and check out if they have drop-off service. I was able to do this in Buenos Aires and it only cost us $6 to wash a large duffle-bag full of clothing. I dropped it off in the morning before we set off sightseeing and it was ready for pickup by end of the day. The laundromat was literally across the street from where we were staying so it was on our way 'home'.
You can also plan to wash items in your hotel sink. These WashEze Laundry Sheets contain detergent, fabric softener, and static guard all-in-one, plus they're in a sheet so they won't count towards your liquids.
Keep moisture at bay
When traveling during summer months, I like to pack a couple of Uniqlo Airism Camis to wear under my tops. They are really thin, breathable, and help keep moisture away from my nicer tops. These camis can easily be washed in the sink and will dry super quick. Keeping sweat away from clothes helps me to wear them again without the smell.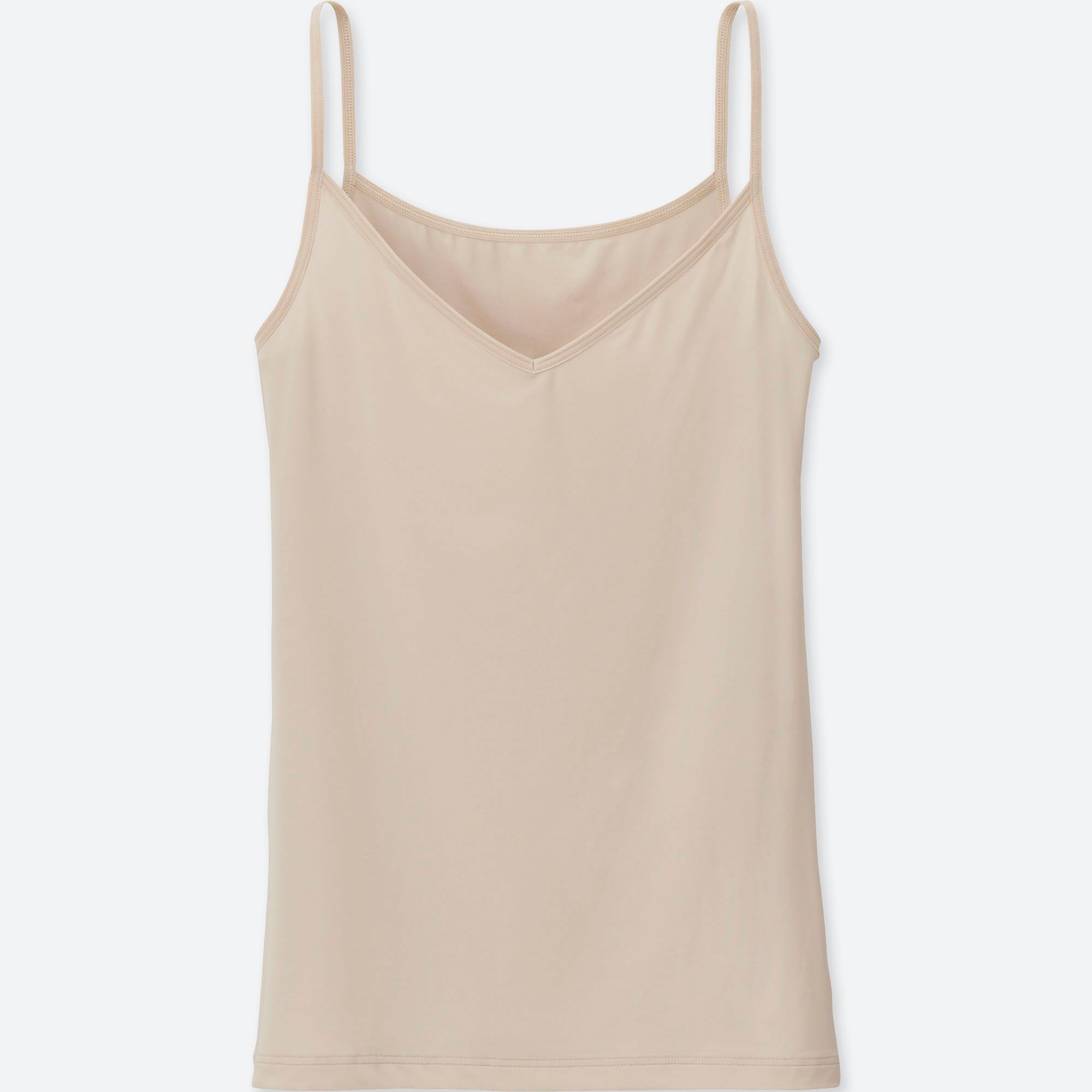 Refresh overnight
I use to travel with a mini bottle of Febreze for the longest time. I've recently come across a new way to refresh my clothes without the added liquids. It involves laundry scent booster pellets. My favorite is Downy Unstopables In-Wash Scent Booster Beads in Fresh Scent. Check out the many options at your local store to find one you like. You'll also need a small spray bottle, like this, which you will pack in your bag empty. Take a handful of the scent booster pellets and put them in a small ziplock baggie. To save space, you can stuff the little bag inside the empty spray bottle – or keep them separate if that's easier.
Put roughly 5-6 pellets into the bottle, fill the bottle with hot water, cover and shake vigorously. The agitation in the hot water will help the pellets dissolve. Now you can spray your clothing, like you would use Febreze, and hang up your clothes to air out overnight.
I hope these tricks help you streamline what you take with you on your next trip.
Do you have any techniques to cut down on luggage? Let me know in the comments below.
Happy travels!
---
Related Posts
---